Our Catholic Ethos
Chaplaincy
The Chaplaincy is open to staff and students throughout the day. It is a welcoming space where students can relax and spend time away from the stresses of college life. Students can play board games, chat to friends and there is always time for a cup of tea! There is also space for students to work during their study periods.
The Chaplaincy exists to serve our students and staff, and witnesses to our mission statement, that "the person and teaching of Christ" is at the centre of college life. By living out this mission, the Chaplaincy supports the whole college community, welcoming and showing love to all, regardless of an individual's faith.
Through involvement in the Chaplaincy, our students can get involved in charity and outreach work, seeking to put our "Leadership in Service" motto into action in the local community. There are opportunities for students to explore and develop their faith, as well as opportunities for Sacramental preparation, through our Confirmation programme.
Chaplain
We have a full-time Chaplain at St Charles who is available for anyone who needs a listening ear. Whether our students or staff have concerns about their college, home or spiritual life, the Chaplain's door is always open!
The Chaplain's office is in the Chaplaincy – pop in if you want to speak to him!
If you'd like to get in contact with our Chaplain, his email is jho@stcharles.ac.uk.
The Chapel
Next to the Chaplaincy, at the heart of our college, we have our Chapel, where the Blessed Sacrament is reserved.
The Chapel is a place where both students and staff can come throughout the day for quiet prayer, to light a candle, or to just sit and be still. It is a beautiful part of our College!
Every morning there is prayer in the Chapel, open to both staff and students. Each Friday at 8.15am we have Mass or a short liturgy, led by our local clergy. This is followed by a shared breakfast in the Chaplaincy.
Retreats
Each year the Chaplaincy takes students away on retreat to St Cassian's Centre in Kintbury, a Catholic retreat centre in West Berkshire.
The open countryside and relaxed environment allow our students to be still, take stock and grow closer to God, without the distractions of everyday life.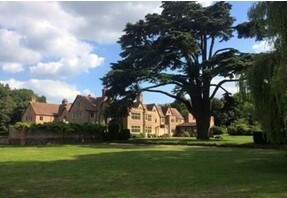 Kintbury was an amazing experience, it helped me develop and grow closer to God. - Yr 12 student
---
Student Leadership
From our Mission Statement, the college has taken the motto Leadership in Service. For the Chaplaincy, this means two things. Firstly, our Chaplain's job is one of service, to lead our students in prayer and reflection. Primarily, our students are here to receive guidance and pastoral care from the Chaplain. But for those students who desire to go deeper, the call for them is to also lead through service, both in College or in the local community.
Outreach and Community
Each year, students at St Charles participate in our Feast Week celebrations, during St Charles Week. This includes attending our St Charles Week quiz, running the stalls at our fundraising fayre and reading at our Feast Day Mass.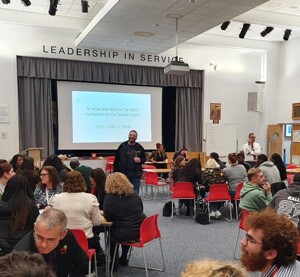 At Christmas time, the Chaplaincy runs a Christmas Hamper Appeal for the Catholic Children's Society, our neighbours on St Charles Square. Each year, students donate over 50 hampers of food, essentials and Christmas presents for local families in need at Christmas. The hampers are presented to the Catholic Children's Society at our annual Carol Service.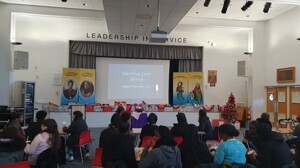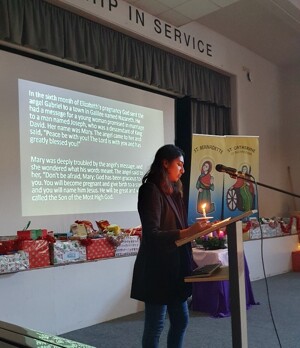 Students at St Charles also have opportunities to meet some of the elderly people in our community, through our work with the NeighbourCare group.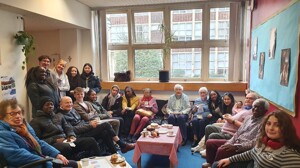 All staff, parents and visitors have a statutory responsibility to safeguard and promote the welfare of students. Please click here for more information on safeguarding.
CAFOD Young Leaders Group
At the start of Yr. 12, students have the opportunity to join our CAFOD Young Leaders Group. Accompanied by the Chaplain, this group attends three CAFOD training days, with Sixth Formers from across London. Here they receive training on how to communicate CAFOD's mission to students at the College. The students then meet every fortnight to plan events in the College to raise funds and awareness for CAFOD's campaigns.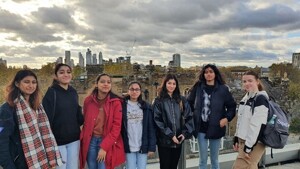 If you are thinking of coming to St Charles and want to learn more about our outreach and social justice initiatives, come along to an open day and chat to the Chaplain!
Liturgical Life
The College's mission is to enable all its students to achieve their greatest potential, inspiring them to wisdom, compassion and leadership in service to others. We aim to achieve this in a community defined by Catholic values which has the person and teaching of Christ at its Centre.
Morning Prayer
Before college each morning, the Chaplain leads morning prayer in the Chapel for any staff or students who wish to come along.
Every Wednesday staff and students can join a Bible study group in the Chapel. On the other days, the Chaplain leads those present in a short prayer and reflection.
Ethics
Each week in Ethics, the Chaplain leads the students in a weekly reflection. This touches on either the liturgical calendar, or a significant occasion in the College's calendar. Though based on scripture passages, student feedback has shown that these reflections are meaningful for those of any religion.
One period of Ethics a week is a compulsory part of a student's timetable at St Charles. In the lessons, students learn how to critically respond to the ethical issues going on in our world and local community.
Interfaith Dialogue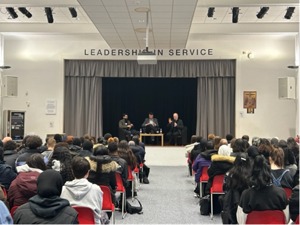 Each year, the College holds an Interfaith Week, with an Interfaith Dialogue event between a local Imam and Catholic priest.
There is also an Interfaith Prayer room in the College. This is an alternative prayer space to the Chapel, which students of any faith can use throughout the day.
Mass
There is Mass at the College each Friday at 8.15am in the Chapel. We are fortunate to be served by local clergy, who enjoy visiting the College for Mass. Every week, Mass is followed by a shared breakfast in the Chaplaincy – it's the perfect way to end the week!
St Charles Week
Each year the college dedicates a week to celebrating the Feast of St Charles (4th November). The highpoint of this week is our Feast Day Mass.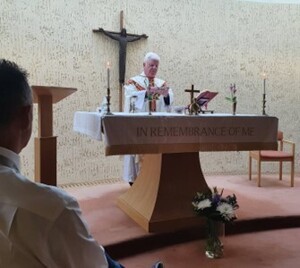 Ethics in a Catholic Context
By being part of the community here at St Charles, you will attend weekly Ethics in a Catholic Context lessons with other members of your Hall. This is part of the Core RE programme of our Catholic College.
Ethics in a Catholic Context will help you to:
Develop your critical thinking skills
Respond to ethical issues in the world and in your lives
Establish your own thoughts and beliefs, as well as understanding why others might think differently
Explore and consider your own personal faith
Learn something outside of your programmes of study
Meet students from your Hall who study on other courses
Gain awareness of the social problems in our community and have the opportunity to tackle them through social action projects
Listen to external speakers from each of your Hall charities and learn the difference your fundraising makes to people in our community
Work towards your St Charles Passport
What will I learn about?
Each lesson will focus around one of the seven principles of Catholic Social Teaching. These are principles that Catholics use to help them respond to, and interact with, the world around them.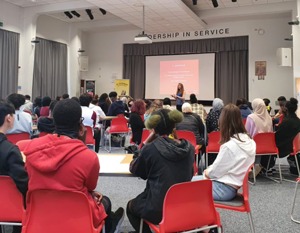 All staff, parents and visitors have a statutory responsibility to safeguard and promote the welfare of students. Please click here for more information on safeguarding.
St Charles Borromeo
St Charles Catholic Sixth Form College is named after the counter-reformation saint, St Charles Borromeo, whose Feast Day is celebrated on the 4th November each year. Below is a brief history of St Charles' life and his relevance to our college today…
Born almost 500 years ago, St Charles Borromeo might seem an unlikely saint for our time, but his ministry in Milan in the 1500s speaks directly to our life in college today.
St Charles was born to a noble family near Milan in Italy. From a young age he dedicated himself to a life of service in the Church. At the age of 24 he became a priest and by 25 he was the Archbishop of Milan. Despite coming from a family of great wealth, St Charles was clear, this wealth should be used to serve the Church, not to serve himself.
Indeed, he wrote that:
"Charity is that, with which, no man is lost, and, without which, no man is saved"
This reminds us that charity is therefore not only part of our Christian duty to help those in need, but it is somehow also necessary for our own salvation. If we are to make it to heaven, we must look at our less fortunate brothers and sisters with eyes full of mercy. We must love them just as we love our friends and family.
When famine struck the city of Milan, St Charles fed thousands of people daily out of his own wealth. In fact, there are stories of him using his own tapestries to make clothes for the poor. St Charles clearly recognised that God dwells in every single person and so gave of himself for the greater good of others.
As Archbishop, St Charles embarked on some important reforms within the Church – he shut down corrupt monastic orders (which led to a failed assassination attempt on his life) and demanded that priests should take pastoral care of those entrusted to them. He saw that many of the clergy at the time were ignorant, and so he founded schools, colleges and seminaries for clergy to be educated in the truth of the Church.
But perhaps more than anything else, St Charles is a saint for our time because of his actions during the pandemic in Milan in the 1570s. In a time not too dissimilar to the Coronavirus pandemic, St Charles led his priests to care for the people of Milan. When the city officials had ran away from danger, St Charles ran towards it. He prepared himself for death, wrote his will, and went to the hospitals where cases were worst.
As a priest, St Charles administered the Sacraments to those who were dying. He gave the Eucharist to plague victims through their open windows. There's even a story of him climbing a mound of dead bodies to give the Sacrament of the Sick to a man dying at the top.
St Charles had an unshakeable belief that God was who He said He was, that this life was not the end, and that the presence of God would comfort those dying. And he was right. The sorrow we experience in this life will not last, because we belong in heaven, where God will wipe away every tear from our eyes and there will be no more pain, death will be no more. St Charles' life reminds us of the truth of heaven and sets out an example of how we, who take him as our patron, can get there.
St Charles, may you always watch over our little college, and guide us into the heavenly glory that God desires for us. May we follow your path and become the saints of our generation! Through Christ our Lord, Amen.
All staff, parents and visitors have a statutory responsibility to safeguard and promote the welfare of students. Please click here for more information on safeguarding.
Diocesan Inspection Report
The purpose of inspection is to report to and advise the Archbishop on the quality of classroom religious education and the Catholic life of the school. Inspection also provides an opportunity to inform parents and the wider Catholic community on the quality of religious education and the school's efficacy as a Catholic community.
Inspection provides an opportunity to support, challenge, evaluate and promote the work of Catholic schools and colleges. It also assists schools and colleges in the work of self-evaluation and improvement, and enables the Diocese to celebrate with schools their sense of identity and their strengths as Catholic schools. Diocesan inspection also provides parents and carers with an assessment of how well a school is performing as a Catholic school.
Source: Diocesan Framework for Inspection
All staff, parents and visitors have a statutory responsibility to safeguard and promote the welfare of students. Please click here for more information on safeguarding.
Our Charities
For our students, it is important that they not only spend time on their academic work, but that they also take time to put themselves at the service of our local community through fundraising, volunteering and outreach work.
Fundraising
One of the way students do this is through fundraising for charity. This year, we have linked each Academic Hall to a local charity, which students have opportunities to raise money for throughout the year:
Bakhita Hall:
Bakhita House: Human trafficking is a 'crime against humanity', and it is happening right here in London. Caritas Bakhita House offers emergency support for victims of human trafficking, providing them with the safety and support they need to begin the process of recovery and rehabilitation.
Soubirous Hall:
The Cardinal Hume Centre: The Cardinal Hume Centre enables people to gain the skills they need to overcome poverty and homelessness.
Romero Hall:
The Grenfell Foundation: The Grenfell Foundation was set up at the request of some survivors and bereaved families of the Grenfell Tower fire. They provide independent support to the former residents of Grenfell Tower, their families, dependents, and the local community.
Aquinas Hall:
The Catholic Children's Society: The Catholic Children's Society supports disadvantaged children and families across London, Hertfordshire and the South East. They work with individuals of all faiths and none. Their sole aim is to help those in greatest need.
Alexandria Hall:
Age UK Kensington and Chelsea: Age UK Kensington & Chelsea is an independent, local charity working at the heart of the community to make sure that older people's voices are heard, their needs are met and their independence is supported.