Open Events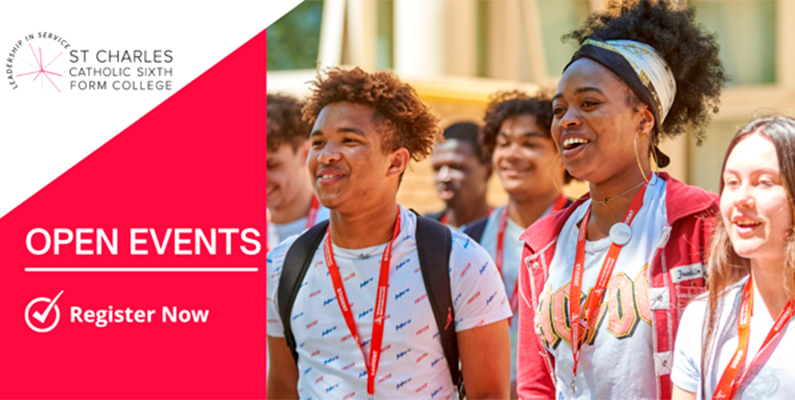 ---
Attending one of our Open Day Events is a great way for you and your family to learn more about our College and the courses we have available for you. At our Open Days, you will have the opportunity to:
Explore our College facilities
Meet our current students
Speak to our teachers and staff
Receive support with your application
OPEN MORNINGS COMING UP
Tuesday 13th December (9am - 10.30am)

Tuesday 10th January (9am - 10.30am)

Tuesday 7th February (9am - 10.30am)

Thursday 23rd February (9am - 10.30am)

Tuesday 7th March (9am - 10.30am)

Thursday 16th March (9am - 10.30am)

Thursday 20th April (9am -10.30am)

Friday 28th April (9am - 10.30am)
If you would like to arrange a personal tour of the College, please click here to send us an enquiry.
Not sure what questions to ask at Open Day? Take a look at our helpful guide for some ideas.
Virtual Open Event
You can access our Virtual Open Event here and all our Course intros by our Heads of Department on our Youtube channel.
---
Please Note:
When you submit information to this website via webform, we collect the data requested in the webform in order to track and respond to your submissions. For more information on how we use your data, please read our Data Protection Policy.
All staff, parents and visitors have a statutory responsibility to safeguard and promote the welfare of students. Please click here for more information on safeguarding.
FAQ's
How do I find the College?
Visit our Contact us page for details and directions.
How can I attend an Open Event?
Simply Register Your Interest via the links above.
Can I bring my family and friends?
Yes, you can attend with your family and with close friends who may also be interested in applying.
Do you offer car parking facilities?
We are unable to offer car parking facilities for our visitors.
Can a school group attend an Open Event?
Absolutely. Please contact us at: enquiries@stcharles.ac.uk
Can I get course information after the Open Event?
Yes. You are welcome to speak to our Careers Advisors who will be able to help you with any queries.
How can I get in touch?
Drop us an email at enquiries@stcharles.ac.uk and we will get back to you with your enquiry. You can also call us on 0208 968 7755.