Careers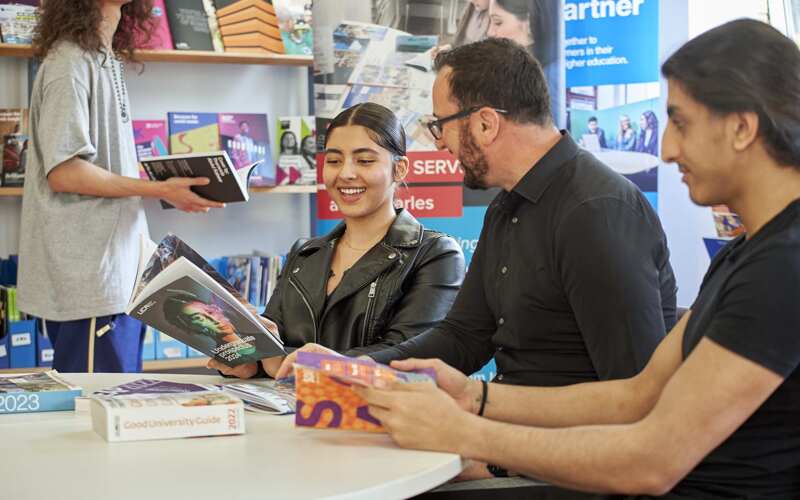 St Charles Careers Programme covers a wide variety of topics which aim to prepare students not only for their college studies but for both university, apprenticeship, employment and their intended careers.
A high proportion of our students (approximately 85%) go on to higher education, with a further 10% going on to take up apprenticeships or employment.
Tim Shehu is the designated Careers Leader at St Charles, with Tanya Kassir as the Work Experience Coordinator. The College puts a big focus on helping our students to build a successful career. We are very keen to collaborate with potential employers and higher education institutions. If you would like to work with us at St Charles, or if you are a parent or prospective student with questions, then please do not hesitate to contact the team.
By Telephone on: 0208 968 7755 ext 340.
Tim Shehu, Head of Careers - tse@stcharles.ac.uk
Tanya Kassir, Work Experience Coordinator & Careers Assistant - tka@stcharles.ac.uk
The careers service provided at St Charles College includes:
A dedicated Careers Advisor, who offers individual support and guidance throughout the College life and with the UCAS process
Preparation for additional university entrance tests and university interviews, including advice on applying to American universities
Preparation and support for work experience applications and internships
An information evening for parents and students about UCAS, with a specialist speaker
A number of annual events: One Year Choices Day for students on Level 1 and Level 2, Two Year Choices Day for students on first year of Level 3, Career Fairs and Higher Education Fair, UCAS Preparation days including talks from top Universities such as UCL, Kings and City
Personal Statement workshops delivered by professionals from IntoUniversity, Royal Holloway University of London, Portsmouth University, Newcastle University, Roehampton University and Oxford Brookes University and many others
University workshops in many different subject areas (at least 50 workshops)
Inspirational talks from high profile speakers such as the Chairman of Mastercard Rick Haythornthwaite, Ex Chief Executive of BP Tony Hayward, John Snow Broadcasting Journalist from Channel 4, and Chairman of Legal & General Sir John Kingman
Weekly careers newsletter that is shared with students, parents and staff which entails huge amount of information about work experience, summer schools, apprenticeships, industry insights, university open days, tasters and talk offered by universities and employers.
Visits and Industry insights organised in collaboration with subject areas linking curriculum to careers. The St Charles Careers Programme covers a wide variety of topics which aim to prepare students not only for their college studies but also for university, apprenticeship, employment and their intended careers.
Students can explore careers through https://launchyourcareer.com/en_UK/students/, WHAT ARE YOU GOING TO BE? DISCOVER WHO YOU ARE! Launch Your Career can help you find your way by understanding your personality type and matching you to a career while connecting you with colleges, courses or apprenticeships relevant and available to you, which has been designed to help young people broaden their horizons and consider a broader spectrum of careers and education options.
Every year our students take part in in an independent survey which measures careers programme in college. Full information can be found in our documents attached in the Documents Section.​
Technical Education & Apprenticeships
During the One Year Choices Day and Two Year Choices Day various employers and education providers are invited to attend our HE and Careers Fair where they have the opportunity to promote Technical Education as well as apprenticeship opportunities. Also many apprenticeship opportunities are advertised on our weekly careers newsletter. We have a close collaboration with Multiverse – an apprenticeship provider, who deliver sessions in college and we refer students to their opportunities. The most popular apprenticeship websites are also enlisted on students planner as well as career guidance resources and information.
Interview Tips
Useful Sources
https://pypi.org/project/fast-forward-job-hunting

Fast Forward Job Hunting - a revolutionary application that greatly speeds up the process. It automatically searches for specified vacancies, evaluates which ones to apply to, tailors one's CV according to the job description and sends it to the prospective employer. It reports the search activities to the Jobcentre Plus.

Military Aptitude Tests https://www.militaryaptitudetests.org/
Student Testimonials
Thank you so much for everything. Thank you for the doors you opened for me, thank you for the directions you pointed me in, thank you for the constant reminders and reprimands... Thank you for believing in me, thank you for listening to me ramble on and on in your office, many a time. I can't even express how much your guidance and assistance means to me.. Thank you so much [for the] recommendations and mentoring, even just reassuring me with positivity. You are doing a great work where you are.
I just wanted to say a big thank you. You've actually motivated me to strive for the best. You helped me create the best personal statement that got me into the best uni. You've been such a huge help.
"The Two Year Choices Day was very inspiring as well as motivating. I feel as the effort put into organising this day was very effective as it motivated me to think more about my future; increasing my ambition."
"Prior to the Choices Day I had had an initial talk with Tim [Careers Advisor] who was helpful in guiding and supporting me around the expectations and requirements to apply to certain universities. He also forwarded me many university opportunities that I have been able to apply for as a result of him."