St Charles Jack Petchey Award Winners January to June 2021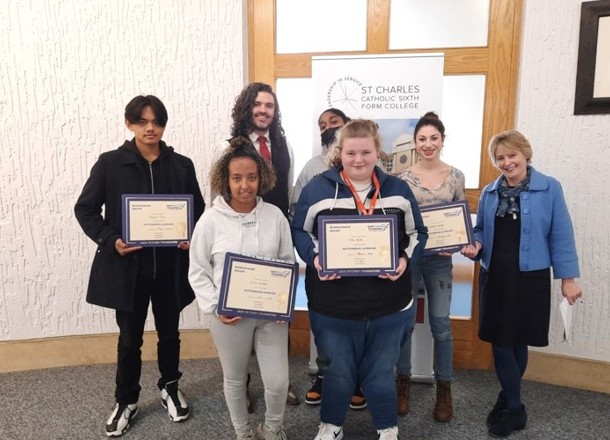 News
9th Jun 2021
(From left around the table - Bella Shinder, Martin Twist (Principal), Mary McHugh (Jack Petchey co-ordinator), Ellie White, Elvira Carobbio, Miracle Luke and Anjielo Tirona.)
The College Principal Martin Twist recently invited St Charles' Jack Petchey award winners January to June 2021 to lunch to discuss why they were worthy recipients of the award and to present them with their certificates. You can read below about each of their accomplishments!
Jack Petchey January 2021 Award Winner - Bayan Wahib
Bayan was nominated for this award by Mr Macedo and colleagues from the College's pastoral team for her consistent and active involvement in the life of the college community during her 2 years with us. Bayan has willingly given freely of her time to act as a student volunteer for a variety of college activities and events e.g. open events, Student Induction days, parents evenings etc, always receiving favourable feedback for her contributions. She is one of the College's Student Ambassadors and a member of the Student Council. She is also a member of the College's Chaplaincy Committee where she is a great asset to the team. Mr Holland, our College Chaplain describes her as someone who is always happy to step in and help at short notice and that she is a fantastic ambassador for the College. What an impressive list of activities that she's involved with!
However Bayan's wider contributions to the College have in no way distracted her from her academic studies. Ms Campbell her Pastoral Manager, states she is an "excellent all round student." She is an incredibly hard working and motivated student who does everything she can to achieve the highest possible grades across her 3 A Levels; Maths, Physics and French, where she is predicted outstanding results! Ms John, her A Level Maths teacher tells us that Bayan "consistently demonstrates a proactive and positive approach to her work and is an inspiring role model to her peers." She is highly conscientious and committed and Ms Tepes, her A Level French teacher also states "that her dedication and hard work had inspired other students to succeed. She contributes to everything with enthusiasm and genuine joy." Mr Jones, Bayan's form tutor fully supports all of his colleagues' comments saying Bayan is "polite, kind and generous with her time as well as having a positive and mature approach to everything she undertakes. She has been a fantastic tutor group representative and is a valuable member of the tutor group and College."
A humble student, Bayan is quietly confident and assertive; her contributions to the College have been far reaching and effective and she will be missed by all! We are confident though that our loss will be her university's gain where she is destined to excel!
Bayan said on receiving the award

It was an honour and a pleasure to receive this award. I feel very fulfilled thanks to this nomination. During my time at college, I have worked hard both academically and as a student ambassador so I'm very grateful to be acknowledged for all my contributions!
Good luck and come back and see us!
Jack Petchey February 2021 Award Winner - Isabella (Bella) Shinder

Bella was nominated for this award by a cross section of college staff who have worked with her during her 2 years in sixth form, studying A level Art, Maths and Philosophy of Religion, reflecting her wide range of interests and abilities!
Academically able, Bella has been an outstanding student at St Charles. She is described as "an exemplary student" by her Art teachers, demonstrating great ambition. She is constantly driven to improve her work to achieve the highest possible outcomes. Ms Hemsley, Head of Art, states that she is a friendly and outgoing member of the class who is always supportive and encouraging of her peers. Her RE and Maths teachers are equally complimentary and in RE she is described as going above and beyond to ensure her work is of the highest standard. She is cited by Ms Leech from RE as an asset to class discussion and debate with her insightful and perceptive contributions, whilst always remaining respectful of others' views.
Bella is a singular student with great team and leadership skills. She demonstrates a maturity and sensitivity beyond her years and this was clearly evident when she represented the College on the Lessons from Auschwitz programme organised by the Holocaust Education Trust with the College. Ms McHugh who organises the programme in the college states that Bella was the perfect choice to participate in the programme which included a visit to the notorious Auschwitz-Birkenau concentration camp in Poland. She states that Bella was an outstanding ambassador for the College throughout. Ms Lancaster who accompanied the St Charles students tells us that in the preparatory workshops and visit to Poland, Bella stood out amongst a large group of participants and she was regularly commended by the organisers for her valuable contributions. (Please see Bella's own reflections of the project here:
St Charles On her return Bella helped organise a Virtual Wall on the college website inviting students to commemorate Holocaust Memorial Day 2021, disseminating lessons learnt and keeping the memory alive. Quietly ambitious and utterly modest, Bella is off to read Philosophy at university where we are confident she will make an impact and difference.
On receiving her award she said:

I was recently invited to meet with the head master, Mr Twist, to receive the Jack Petchey award. Sitting around the table with the other winners, I reflected on the difficulties of taking on A levels whilst living independently during lockdown. As I voiced this, I couldn't help but feel incredibly proud of myself for getting through the tough times! I was surprised to discover that my efforts had been noticed and felt extremely blessed and supported when I received a certificate.
Please come back and see us Bella!
Jack Petchey March 2021 Award Winner - Ellie White
Ellie was nominated for this award by Ms Gerges and the nomination was fully supported by a wide selection of her teachers and peers. Ellie's sheer resilience in the face of some extremely challenging personal circumstances, in particular in the past 2 years, is extraordinary and truly commendable, given her younger years. These personal circumstances have impacted significantly on all aspects of her life and opportunities; home, education etc. Ellie has shouldered a range of responsibilities independently and persevered with incredible determination and a positive, can do approach!
At St Charles Ellie maintains an impeccable attendance record; she is extremely reliable and hardworking on her L3 programme of Business Studies and Criminology. She is thoroughly committed to her studies and is an active and respected member of the College community. Ms Gerges describes her as a very mature, helpful and respectful young woman. Ms Nash, her form tutor echoes these sentiments stating that Ellie is an outstanding student who is so supportive of staff and students. She is always positive and does so much in her tutor group, helping with the daily prayers and encouraging peers to get involved in all tutorial and college activities. She is cited by Mr Baird, her Criminology teacher as someone who puts so much effort into her work and as a very caring and reflective student. Her Business teachers Ms Maraj and Ms Coyle describe her as very focused, hardworking, pleasant and positive. Ms Coyle's words sums up all their views; she is "Absolutely fab!"
Ellie is enjoying her time at St Charles and is fully embracing and involved in her sixth form experience. We are looking forward to her participating in lots of wonderful activities next year with us and having yet another successful year. On receiving the award Ellie said "I feel honoured to have won this award from Sir Jack Petchey CBE and that my teachers nominated me. This is a wonderful achievement and I never thought in a million years I would be able to win but because of the supportive community at St Charles it became possible and came true." Well done Ellie and well deserved!
Jack Petchey April 2021 Award Winner - Elvira Carobbio
Elvira is a very worthy recipient of the Jack Petchey Award. Having to leave her home and family network behind, she moved to the UK form Eritrea less than 3 years ago with hardly any English. This has not stopped Elvira progressing and she has been relentless in her pursuit of achieving the highest possible grades on her courses here at St Charles during her 2 years with us! A resilient young person, her determination to succeed in unwavering and she has made incredible progress on her journey to date. When she joined us in sixth form, Elvira was incredibly shy and felt constrained by her understanding of English. She found conversing and socialising with peers challenging. However, her true grit and spirit shone through and she always went out of her way to make friends and availed of every opportunity to improve her spoken and written English. Ms Lancaster from the College's Learning Support Department states that "Elvira is always appreciative of the support and fully embraces it" with Miss Coyne from the Department stating that Elvira always displays "an excellent attitude" to her learning. Her GCSE English teacher Ms Morgillo says "Elvira continues to work extremely hard on her English and is constantly trying her best. She willingly and confidently participates in class discussions and activities."
Art & Design is clearly where Elvira's passion and interests lie and she is reported to have worked exceptionally hard on her L3 Diploma in Art & Design. Her interest is part inspired by her Eritrean culture growing up with family members involved in the Arts. Her Art teachers tell us " Elvira is very talented and committed with an exceptional focus and willingness to go above and beyond to ensure her work is of the highest standard possible."
Ms Young who has supported Elvira during her time with us describes her as a diligent student who is totally committed to excelling in her subject. She worked exceptionally hard in lockdown "despite some very challenging circumstances and her wonderful sense of humour saw her through this demanding time." Ms Mbambe, Elvira's form tutor tells us that she is an extremely helpful and polite student who is always willing to get involved. Elvira has certainly impressed us with her growing maturity and confidence. Ms McHugh commends her self-assured approach and valuable contributions in a focus group with Ofsted inspectors.
A respectful and determined young woman, Elvira has received several university offers to study Art. These offers followed challenging online interviews which Elvira prepared for with her characteristic thoroughness and conscientiousness. We wish Elvira every success with her next steps.
Jack Petchey May 2021 Award Winner - Anjielo Tirona
Anjielo's nominations for his Jack Petchey award came from both his teachers and peers. Anjielo has certainly impressed staff during his time at St Charles with his dedicated, calm and respectful approach to everything he is involved with. Ms Lancaster who has worked closely with Anjielo during his 3 years with us tells us Anjielo has "grown in independence and maturity beyond all expectations." Having started on a one year L2 programme in Travel & Tourism, Anjielo progressed seamlessly to L3 and is now sadly leaving us for a new chapter of his life at university, but one where he will continue to develop his independence and prepare for a career in the justice system! Ms Lancaster stats that Anjielo actively looks for opportunities to develop himself and his skills and is always ready to listen and take advice which has led to steady improvement not only personally but also academically, with outstanding results pending!
This determination to succeed by Anjielo is acknowledged and respected by both his teachers and peers. His impeccable attendance and diligence has proven him to be a positive role model for others, who regularly seek his support and guidance. Mr Morgan, Head of Travel & Tourism, states that throughout his 3 years studying in the Department, he has impressed the team with his focus and dedication to his learning. He has evolved into a strong independent learner who is on target for a Distinction* grade, reflecting his consistent hard work and commitment. All his Travel & Tourism teachers say he displays an impressive level of maturity and that he has been a real pleasure to teach!
An articulate and reflective young man, Ms McHugh recalls his impressive and honest dialogue with inspectors during Ofsted visits to the college on a number of occasions. Over the past year, Anjielo has also been involved in the Chaplaincy Committee. Mr Holland, the College Chaplain, describes him as someone who cares about his friends and relationships with those around him which is reflected in his actions on a daily basis. Anjielo is looking forward to the College's annual retreat to Kintbury in June 2021 where we are confident he will be an asset to the group.
Overall Anjielo has been a fantastic student who is also and keen boxer and accomplished cook in his free time! He will be missed and we wish him every success with his next steps.
On receiving the award Anjielo said "'I was extremely surprised to have been given the JP Award. It was completely unexpected and a great way to finish my time at St Charles.
My family were of course pleased and proud of my achievement and I will treasure the accomplishment!'"
Jack Petchey June 2021 Award Winner - Miracle Luke
Miracle is a very worthy winner of the Jack Petchey award. She is a hardworking and resilient young woman who strives to do her very best in everything she does. She has faced significant physical challenges but she has never allowed them to stop her from excelling on a personal and academic level. Miracle is in her third and final year at St Charles having come to us from a local special school. She progressed internally successfully from Level 2 to Level 3 Travel & Tourism where her positive, "can do, will do" approach has helped her make excellent progress. She is now at the end of her time with us on target for an optimum set of results!
Well respected by staff and students alike, her Travel & Tourism teachers describe her as a diligent student whose work ethic and motivation are exemplary. She has demonstrated a genuine interest in the industry and has grown tremendously in confidence and independence in her studies. Her tutor Ms Wilson-Gayle talks of her incredible drive to achieve in her studies and life making her a good role model for others. An amicable student, she is popular with students and staff. She is a valuable asset to her tutor group where she is always helpful and enthusiastic and she has displayed great leadership skills on numerous occasions. Ms Wilson-Gayle stats she is a dependable member of the group who helps organise activities and encourages others to get involved, not taking no as an answer! Ms Lancaster comments that we have all watched Miracle grow in maturity throughout her time in sixth form. With integrity and care, Miracle quietly notices how others are feeling. While remaining discreet and sensitive, she will take the initiative to always look out for others. Her sense of humour and fun are infectious!
Ms McHugh also highlights Miracle's great potential as a leader. Miracle's proactive and pragmatic approach has been evident in numerous events that she has contributed to in the LS Department over the years. She is cited as saying "Miarcle's chosen degree course in Events Management plays to her strengths and she is perfect for it!" Miracle also loves playing football outside college and is a natural mentor in all sorts of ways for younger, less experienced students.
Humble, caring and sensible with a fierce determination to succeed, Miracle is destined for a bright future. On receiving the ward Miracle said:
It was a real surprise when I received the Jack Petchey. I never expected it! This year has been hard for me but I tried my best to attend all my lessons and work to the best of my ability. I'm grateful for the support i received at St Charles as it made me more confident. I'm looking forward to using what i have learnt in college at uni and I am sad to leave St Charles!" We are sad to see you go Miracle but know you will be a great success in your next steps too!
We wish her well and look forward to hearing about her future!