Hunter Kelleher - on joining St Charles and making it to the NBAs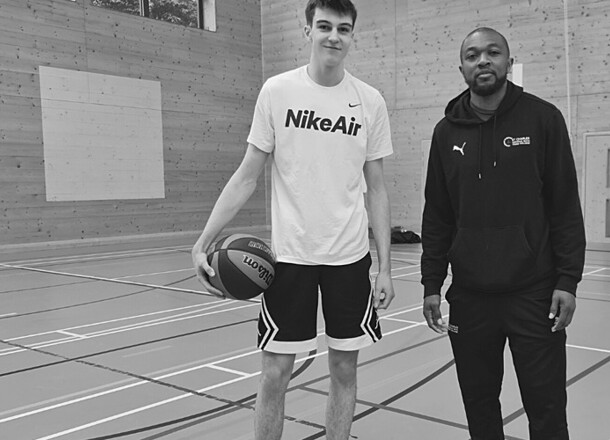 News
25th May 2021
"This kid is great!" were the first impressions I was given when I first heard the name Hunter Kelleher. Hunter had just had his Virtual Admissions Interview at St Charles and had clearly made an impression.
About a week or so later, during one of my meetings with coach Patrick from the St Charles Spartans Basketball Academy, Patrick began talking to me about a young aspiring basketball player called Hunter. I immediately asked, "Do you mean Hunter Kelleher?", he confirmed, and we proceeded to "Let's set up a meeting".
Meeting Hunter on and off the court it was evident to see his determination and commitment to self-improvement, basketball mastery and overall drive. Hunter plans to join us this September as a full time student pursuing a range of A Levels alongside training with the St Charles Spartans and improving his basketball skills. We interviewed Hunter on his goals and future aspirations.
How did you hear about St Charles?
I first heard about St Charles through Coach Patrick a few years back when he told me to start coming to training sessions at the college. From then on I find myself at the College multiple times a week training and working on my game.
What courses are you considering to study and why?
The courses I am considering studying at St Charles are Business studies, as alongside a career in basketball I look to use and invest my money smartly into current and future businesses to create a stable and successful lifestyle. I would also like to study PE as I am all about sport and physical health. In secondary school it was my favourite subject and I love the concept and feel; it will be a great step forward for my basketball aspirations. Lastly, I would also like to study Biology as it has a similar link to PE and also with the body, I feel out of the 3 science subjects I enjoy, I will succeed the most in Biology.
How did you get into Basketball?
I got into basketball at a very young age and haven't looked back since. My dad was a great basketball player growing up and applied his knowledge and love for the game into the early stages of my development. As a kid, and till this day the NBA has been my favourite sport to watch hence my dreams to make it there one day.
How is attending the morning Basketball club with coach Patrick helping you improve?
Morning trainings have been nothing but helpful in my journey as it creates great discipline first of all to be waking up and being consistent on that schedule, but also has drastically increased my skills and fitness on the court.
I have had the pleasure of coaching Hunter for the last three years and find his commitment and passion for this sport second to none. His drive and ambition for success is mirrored by his actions on and off the court. From my experience, I have noticed he has the ability to quickly improve all aspects of his game in addition to his good shooting skills. By joining us at the Academy, we hope to see Hunter continue to maximise his talents and play at the highest level possible. - Coach Patrick A
What or who is your inspiration?
I honestly have two main inspirations that push me every day, one is a mind-set goal and one is a person. The person who inspires me is Kobe Bryant who tragically passed away in the past year, he has taught me work ethic, determination and how to be successful.
The mind-set and dream which I keep every day and use for daily motivation is to try and provide my parents and family with a luxurious and happy lifestyle, with a great retirement, without any stress or issues. I want to build a successful foundation and be able to live my life to the fullest.
What do you hope to achieve over the next 2 years?
Over the next two years I aspire to develop myself everyday on and off the court all towards the goal of a Division 1 scholarship in America. This would be a life changing opportunity for me and set me up for a shot at my dream.
What goals do you have for the future?
With such a wide variety of future options it is hard to talk about every single goal I wish to achieve in the future. I must say that at the top of my list is first of all getting a D1 scholarship and also being drafted into the NBA. Secondly, I want to become a big part of a successful business in the future to ensure that I have another option after or even during my career and lastly, I want to provide to provide the best possible life for my family and I going forward.