Jack Petchey Award Winners September - November 2021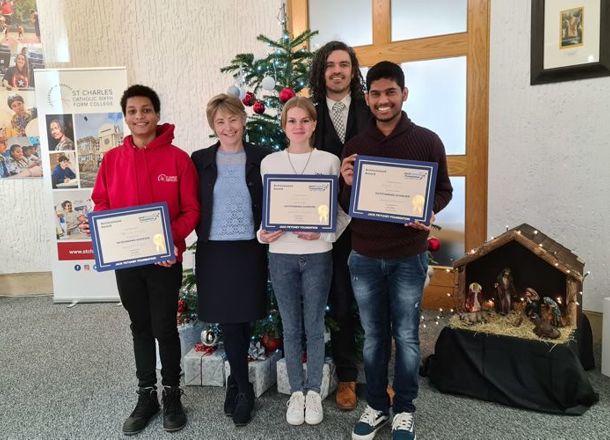 News
30th Nov 2021
Jack Petchey September 2021 Winner - Roland Correia
Roland was nominated for the Jack Petchey award by all his teachers and a cross section of peers who he has worked alongside during his time in sixth form. All unanimously describe him as an amazing student who is consistently helpful and mature! Not only is he extremely hardworking and studious on his L3 IT and Media courses he is also involved in a variety of enrichment activities where he adopts the same mature and motivated approach. Unfailingly polite and humble, Roland strives to achieve his best in everything he undertakes. Mr Petropoulos, Head of ICT describes him as an outstanding student who is adept in his subject. Roland is extremely studious and regularly stays well into the evening to study. He is cited by his media teachers Mr Jones/Mr Sewell as being a delightful student to teach; he applies himself totally, always contributing intelligently to seminars and discussions. He is cited as someone who goes above and beyond the call of duty in the name of rigorous research. His efforts are exemplary and his achievements multiple as a result in his subjects. In addition Roland is completing an EPQ project demonstrating his continued commitment and enthusiasm. His mentor is extremely impressed with his dedication and willingness to go the extra mile and states Roland is making excellent progress with his project. It is no surprise that Roland is looking to study computer science at university where we are confident he will excel.
What makes Roland stand out from the crowd is also his commitment to his extra-curricular activities. His Pastoral Manager Mr Camacho states he is a credit to the college with his polite and amicable manner. He is clearly motivated to make the most of the opportunities available to him. One challenge he undertook was to create a website for a charity. Despite not having any knowledge or experience in this area, he taught himself new software and persevered to achieve his goal overcoming many obstacles with tenacity and determination. The company were extremely pleased and grateful and Roland is still involved with them helping maintain the website. Mr Shehu, the College's careers advisor comments that Roland's work on the website is incredible. Roland was also involved in the College's 3D puzzle club for enrichment making two videos which were featured on Instagram. He has produced promotional materials for the IT Department which also featured on the college's social media and he has been an excellent Student Ambassador says Ms Ahmadian, the College's Marketing Manager. He has a wonderful friendly manner and is totally reliable always going above and beyond to support with marketing activities/events she reports. Roland has also been an excellent tutor group representative advocating on behalf of peers and is a great role model to others in all the activities he has been involved in to date.
We are very pleased to award Roland the Jack Petchey award for all his accomplishments and contributions. On receiving the award, Roland stated "it was so lovely to have my hard work in the college recognised and I felt great being rewarded for being myself and doing the things I enjoy doing". Well done! You have a bright future ahead!
Roland opted to spend his £250.00 a VR HEADSET for the Media Department so they can have some high tech equipment in house rather than having to go off site to access!
Jack Petchey October 2021 Winner - Emily Brown
Emily is unquestionably a serious and diligent student on her A level programme of studies at St Charles. She works with enormous dedication and commitment across all her subjects and all her teachers say she is a pleasure to teach and that she is totally deserving of this award! Her Geography teachers Mr Morgan and Mr Chalcraft state she can always be relied upon to excel in her studies through her persistent hard work and focused approach. Mr Twist who teaches Emily History describes her as an exceptional student who is hardworking and ambitious, and is destined to go far in life! Her English teachers are equally impressed with Emily's dedication and work ethic. Ms Redmond says she always pushes herself to achieve her very best and Ms Gallagher states that Emily is always punctual, organised, engaged and totally committed. It is clear Emily adopts a mature and focused approach to her academic studies and she is well on track to achieve the grades she needs to read Geography at university next year.
Emily is described as a very kind and helpful student by staff and students. Emily has fully embraced sixth form life and contributed to it. She adopts the same positive and can do attitude to her wider contributions as she does to her academic studies. She has been a student volunteer in the college library since she started in sixth form and has never missed a session!
Ms Active, the library manager says she has been an incredible asset to her team with her reliable and hardworking approach. A committed and responsible Student Ambassador, Emily supports the college with an array of marketing activities where she displays excellent leadership and organisational skills Ms Ahmadian reports. Emily has exemplary manners and relates well to all audiences at open/promotional events. Mr Macedo says she is always one of the first to offer to help with college activities. She really has stood out assisting with student tours at enrolment and college open events. Her calm, polite and pragmatic disposition shine through in everything she does and she is an inspiration to peers who with staff agree that Emily is a very worthy winner of the Jack Petchey Award! On receiving the award Emily said she "was pleasantly surprised and felt humbled to be nominated and awarded". Well done Emily, well deserved.
Emily has opted to split her award money between the library where she volunteers and the marketing department. She is buying Sony MDR-ZX110 Overhead headphones for students to use with computers. The remainder of the money is going towards a new camera to capture student events for marketing purposes.
Jack Petchey November 2021 Winner - Odylon Dias De Vasconcelos
Odylon is not only an ambitious and high achieving student on his A level programme here at St Charles, he is also an incredibly asset to the College community. He has been nominated by a cross section of the college staff and students. His Portuguese teacher Ms Rodrigues describes him as hard working, focused and organised and someone who is always polite and friendly. He is cited in Politics and Criminology as highly conscientious and an excellent team player. In addition to his A level subjects Odylon is completing an extended project on " how video games have changed society "and Ms Leech who co-ordinates the College's Extended Project programme states he is a reflective student who is making excellent progress and he is always helpful and supportive of peers. All his teachers agree he is the perfect example of the College's 5" I AMs" in pursuit of academic excellence! He is well on track for his university studies next year reading history and politics!
Outside his studies, Odylon gives freely of his time to help out with college events. He is very generous with his time Mr Holland, the College Chaplain, tells us through his active involvement in the Chaplaincy Committee. He regularly reads at liturgies/masses and is keen to explore his faith. He was a key contributor in the Ethics workshop in his hall demonstrating his leadership skills.
Odylon also finds time to be a leading student ambassador and Ms Ahmadian in marketing reports that he always goes above and beyond to support the College's open events, enrolment/ induction and other marketing activities. He has a wonderful friendly charisma and is a positive role model for his peers with his professionalism and positivity. He's received very favourable feedback from visitors for his welcoming and pro-active approach.
Odylon is clearly making the most of his opportunities in sixth form both academically and personally and is destined to a bright future! On receiving the award Odylon commented, "I was amazed and grateful that I won the Jack Petchey award. It really made me feel like the work I have put in the college has been recognised. Furthermore, the ability to further help my college with the funds brings me great joy" Congrats Odylon on your Jack Petchey award!
Odylon has chosen to donate his £250 award money to the Chaplaincy Committee to subsidise the cost of a residential spiritual retreat to Kintbury for its members.