Ascend Programme Work Experience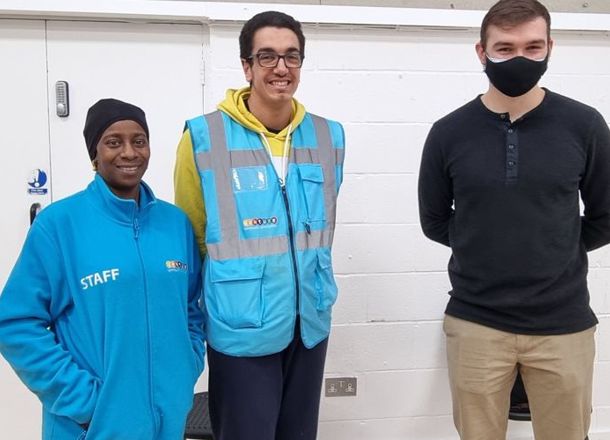 News
21st Feb 2022
Ascend Programme students at St Charles gain valuable employability skills through successful and rewarding work experience!
In January 2022, the College's Level 1 cohort of students completed work experience placements in a range of local businesses. The placements were jointly organised by Ms Capote, the College's L1 coordinator and Ms Kassir, the College's work experience coordinator. Both were actively supported by members of the College's Learning Support Department who helped secure suitable placements for students, accompanying them to pre visits and interviews, and visiting them during their time there.
An integral part of their Level 1 "Ascend Programme of Study" here at St. Charles Sixth Form College where students study subjects such as Business, ICT with tasters in Sport, Health & Social Care, Travel & Tourism, Art etc, the students involved found their placement time to be both an enjoyable and rewarding experience. Not only did it help them learn about the world of work increasing their occupational knowledge but it gave them an understanding of the skills, attributes and qualifications required for future employment. It also helped them develop their social and communication skills and understand their skills and talents, gain confidence and it provided them with a valuable opportunity to become "Career Ready" for the future.
Overall the students thoroughly benefitted from their experiences, stating they got "genuine value" and "real life skills" out of it. Here is what some of our students said about their placements and what some of their employers/supervisors reported.
Hossain Ozlat (L1 ICT) completed his work experience at St. Augustine's C of E secondary school, his old school. During his time there he assisted the ICT department organising folders/systems and helping in Year 11 ICT lessons. He also completed administrative work for the school's SEND department and enjoyed preparing a presentation for Autism Awareness Week. Hossain stated that his experience as "excellent; he could not have hoped for anything better!" Hossain's supervisor reported that he was the hardest working work experience student ever! She stated that all the staff loved having him around because of his helpful and flexible approach and that he was "super employable".
Jayden Dorant Murray (L1 ICT) spent his two weeks working at Planet Organic locally. Jayden enjoyed working in a team there and dealing with the public. His supervisor commented that Jayden communicated very clearly with both colleagues and customers. He used his initiative, was adaptable and a good problem solver which made him a valuable asset to the wider team. She described him as "talented and ambitious" and that she would not "hesitate to hire him".
Omar Mitoubi (L1 ICT) worked at Venture Community Association (WID), a local community group. Omar helped organise the food crates, answered telephone enquiries and went out on food bank deliveries. Omar felt he learnt a lot from the experience and in particular it "opened his eyes" and he was now more understanding and non-judgemental of people's needs he stated. His managers John and Amanda stated that he really enjoyed himself and they enjoyed having him. Amanda said Omar was very intuitive and he interacted well with colleagues and members of the community.
Zaine Richmond (L1 ICT) had a fantastic work experience at St. Charles Catholic Primary School who were delighted to have him. Zaine is cited as doing everything that was asked of him, with minimal supervision. The Reception class teacher and her colleagues had great praise for Zaine stating he was "an asset to the class. We really enjoyed having him around. He was super helpful. The children loved him and his energy." Headteacher/Assistant Head said "we'd be happy to have him back anytime!"
Miriam Tesfasilase (L1 ICT) returned to her old primary school St. Stephens C of E, to do her placement where she helped out in the nursery with art and creative activities and also did some office/administrative work. Miriam said she loved seeing her old teachers and enjoyed her time there. Mr. Schumn (Headteacher) reported that Miriam embraced the experience and grew in confidence.
Rakim Shakur (L1 ICT) had a successful placement at Atlantic Electronics which helped him gain some very valuable practical skills and experience. He said he learnt what it is really like to be in a real work setting, committing to work hours, routines and protocols.
His supervisor stated "Rakim was a very pleasant young person to work with. He was the first young person to work within our company and we are grateful to have given him this opportunity as part of his work experience. He has a strong attitude in completing what he has started and shows an interest in coding and computing. He had adapted well as part of the team and customers. I have offered Rakim a placement in the ICT department during summer holidays if he is interested."
Anwar Amed (L1 ICT) worked at WHS retail where his impeccable manners and generosity of spirit shone through.
Yussif Alanezi, Jamal Francis and Ahmed Galib (L1 Business) also reported rewarding experiences.
Yussif did his first week at MIND Charity shop in Shepherds Bush where he was able to gain real life business and retail experience, in particular practising his customer service skills. Yussif stated the time there exposed him to the world of work; hours, duties etc. His supervisor Iomy described him as a very polite young man who worked hard and was very open to learning. For his second week, Yussif shadowed our IT Support team at St. Charles, helping out with routine IT maintenance and support which he thoroughly enjoyed. Kaushal Ginige (IT manager) said Yussif was a friendly and flexible worker who followed instructions well and responded to advice and guidance and Nishan Liyanage from the Department said he was well mannered with a good sense of humour.
Jamal enjoyed his experience at Kensington Leisure Centre where he worked in the gym helping out with the equipment and shadowing fitness instructors/classes etc. Jamal is reported to have worked well in a team and this was indeed an ideal work experience for him as he wants to work in the sports industry in the future.
Ahmed had a fantastic two weeks working at the Space Hub W10 where he had previously volunteered and was known to and liked by the team. Ahmed helped out with administrative tasks and deliveries. Samia his supervisor commented that "Ahmed is wonderful to work with; his full of energy and is a bright light!"
With their other L1 Business peers; Samira Pereira Do Carmo who did a fantastic job at Fara Charity shop, Kevin Ngimbi at Berger Primary School, Damilola Hayford at Savers shop, Adulloh Mahmudov at Damas Gardens, Ajuan Newell-Routh at IM Academy, there is no doubt all these L1 students were indeed bright lights and were not only positive ambassadors for the College but a credit to themselves, gaining valuable employability and life skills.
Mary McHugh, Head of Learning Support