Study Music Technology at St Charles!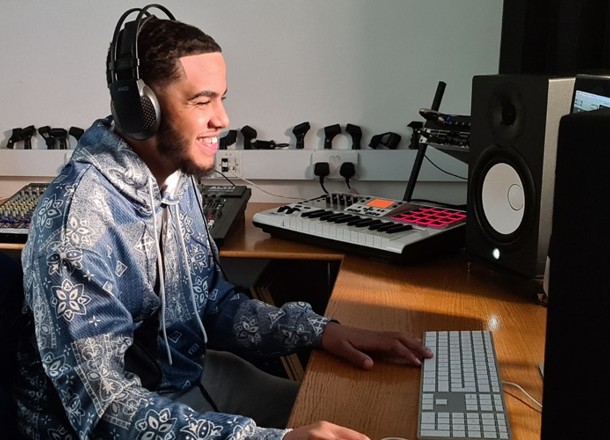 News
19th Apr 2022
The Music Technology (BTEC L3 National Diploma) course is for aspiring Digital Composers, Producers, Live Sound and Recording Engineers, and anyone interested in making and recording music. The music industry is a highly lucrative one. This course offers students an insight into key areas of the music industry such as composition, studio techniques, audio engineering, music production and live sound.
As well as utilising the College's music sound studio and industry level sequencing equipment / software including Apple mac computers, Logic X, Ableton, the course has units on Live Sound and Music for Media. The course is designed to feature industry related music skills and knowledge in all aspects of new digital technologies: practice is supported by theory and practical based projects that feature an emphasis on using software to compose within a variety of genres of music, live sound recording techniques and music theory-based assignments to broaden contextual knowledge. Students will demonstrate how they apply knowledge and skills to complete industry related practical projects over a period of time, working individually or in groups. Units are assessed using a grading scale of Distinction (D), Merit (M), Pass (P), Near Pass (N) and Unclassified (U). This course is the equivalent in size to two A Levels. 10 units of which 5 are mandatory and 2 are external.
The following units are included in this course:
Live Sound
Studio Recording Techniques
Music and Sound for Media
Music Technology in Context
DAW Production
Creative Synthesis and Sampling
Remixing and Reworking
As part of the course professional guest lecturers from the music industry visit the college to provide additional workshops on Ableton, music production, remixing and DJ Skills.
Students completing their BTEC Nationals in music technology will be aiming to go on to employment, often via the stepping stone of higher education. This qualification is designed to be the substantive part of a 16–19 study programme for learners who want a strong core of music technology study. This programme may include other BTEC Nationals or A Levels to support progression either directly to employment in the music technology sector or to higher education courses in music technology. The additional qualification(s) studied allow learners to either give breadth to their study programme by choosing a contrasting subject, or to give it more focus by choosing a complementary subject. This qualification can also be used to progress to employment in this sector. Learners with this qualification could progress to the following job roles:
Studio assistant
Assistant sound designer
Trainee sound engineer
Music producer
Roadie
This qualification enables learners to develop a core of knowledge around the music technology industry and the use of recording and technical equipment. It provides the breadth and practical application of music technology learning which will prepare learners for a number of job roles in the sector, either in its own right or when taken alongside an additional complementary qualification. Although there are aspects of performance included in this course this course is not a performance-based course. If you would to focus more on musical performance then performing arts would be a more suitable option of study.