Jack Petchey 2022 Winners at St Charles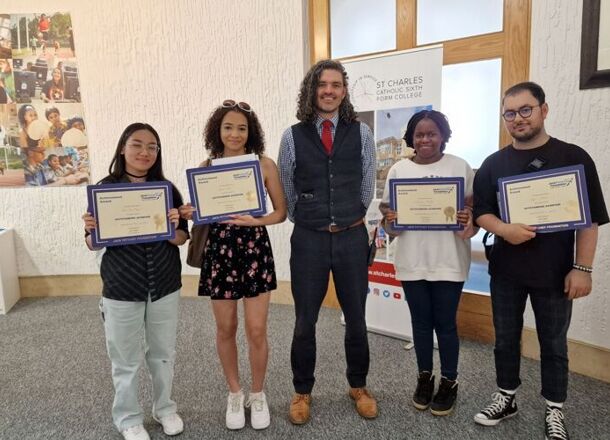 News
15th Aug 2022
St Charles continues to award some amazing students the prestigious Jack Petchey Award for their fantastic contributions to their College and wider community. What incredible young people we have here at St Charles Sixth Form College!
January 2022 Winner – Sammia Kerr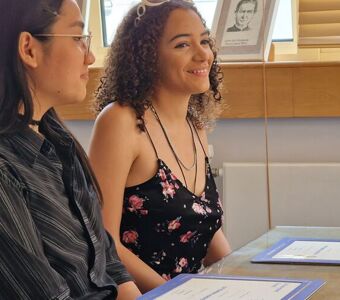 Sammia is an A level student of incredible dedication and focus here at St. Charles Sixth Form College. A resilient student, she has overcome many personal challenges to date but has not let them get in her way of excelling academically and personally which is testament to the fantastic young person she is! She is in her final year now at St Charles and boasts an outstanding attendance record. She is studying Art, English Literature and Sociology. She is described by all her teachers as consistently hardworking and committed to her studies. She has built a great rapport with staff and students during her 2 years in sixth form and she always contributes positively to class discussions. Her Art teacher states she enjoys taking risks with new techniques and has produced some very imaginative and creative outcomes on the course. Her Sociology teacher comments that she has "thrived" in the subject and she cares deeply about justice and feminism; her written work shows great insight and sensitivity. Her English teachers echo this stating she is very talented at writing and loves reading. She is excelling in the subject. She even has wrote a book for children in her free time which has been published and is available on Amazon (www.amazon.com/monster-march-2020-fibbers-collection/dp/1648715192). This is quite an achievement and she is currently writing book no. 2! She clearly has a successful future career ahead of her. Sammia wants to study international development at university but will maintain her love of writing too!
Sammia said she was very surprised to have received the award and that she felt quite humbled to have been chosen but stated she was very appreciative to have been selected. She said it made her feel proud and she knew her family would be, especially her mum and nan, also! We are sure they will be as much as we are! Sammia opted to split her money £300.00 equally between the English, Sociology and Careers Department at St. Charles. Careers Department bought copies of HEAP 2023: University Degree Course offers to guide students with their decision making choices of universities and courses. This is an essential guide to help them with their choices. Sociology chose to buy textbooks for supplementary reading in their modules. English spent it on some novels to enhance students' reading skills and enjoyment of reading which is close to Sammia's heart.
February 2022 Winner – Kimberley Mswaka
Kimberley Mswaka is an exceptional student who has excelled at St. Charles and especially in her final year, studying L3 Performing Arts and AL Photography. In addition she has taken on an extra qualification this year through completing an Extended Project Qualification on "Dance styles and influences in 20th America" which is testament to her sheer dedication and love of performance.
Kimberley is an outstanding member of the College's Performing Arts Department and is cited as someone who puts her all into everything she does! When asked about her love of performing arts she said "Studying Performing Arts has helped me to learn new skills and improve my existing abilities in singing, dancing, scripting and acting. Performing Arts has also helped me to build my confidence both on and off the stage.
When asked about Kimberley, Miss Nash, her Performing Arts teacher commented "Kimberley Mswaka is an outstanding student in Performing Arts. Kimberley completes every piece of written work well before the deadline and is one of the most hardworking students I have taught. Kimberley is developing her acting skills and has shown great progress and promise. She is able to entertain us all with effective characterisation and projection. She is on target to achieve a really impressive set of results at the end of her course! She works extremely well as part of a team and has taken on various leadership roles in the department. Kimberley is a joy to teach and is well deserving of the Jack Petchey Award". She is equally a well-respected member of her photography and EPQ groups where she is reported by Ms Hemsley Head of Art and her photography teacher, and Ms Leech, her EPQ teacher to be studious and totally dedicated to achieving the highest possible grades in both subjects. An extremely thoughtful and pleasant student, she is an asset to her classes and is a positive role model for her peers. They cite her positive attitude and her fantastic work ethic as amazing!
Ms Montique who supports Kimberley with her subjects states "Working with Kimberley has been both a pleasure and honour. Her dedication to her craft and her overall growth has been wonderful to witness this year. I could not ask for a more hardworking and inspiring student to work with and I look forward to seeing all the amazing things she's destined to achieve in the future".
Kimberley is also an active participant in many extra-curricular activities in college and is a wonderful addition to any team she gets involved in thanks to her can do attitude. She played a starring role in the College's annual Christmas Cabaret where she performed "Bohemian Rhapsody" to much acclaim. She was completely dedicated to the Cabaret's success in her role as Assistant Director where she willingly devoted many hours of her free time to ensure the smooth operation of both her own performances and that of her peers. She ensured the show "went on" for all through her incredible efforts and organisation! More recently she wrote the script for another performance building on her repertoire of skills!
Looking ahead to next year Kimberley wants to continue her studies in Drama/Acting at university and has already had a number of successful auditions at top universities including a call back from Lamda! What a fantastic journey to date Kimberley! Well done!
Kimberley said she felt honoured to have been given the award, especially for something she enjoys so much ie, performance!
She chose to split her money £300.00 between the Learning Support and Performing Arts Departments at College. She helped subsidise an end of term celebratory pizza lunch for 30 students in LS. The remaining money she put towards a trip for her Performing Art class to an immersive theatre experience.
March 2022 Winner - Anibal Goncalves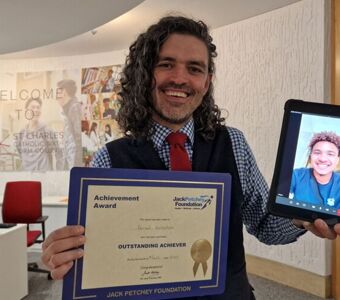 Anibal was nominated for the Jack Petchey award by both staff and peers. Anibal is in his final year at St. Charles studying the BTEC Extended Certificate in Sports, a course where his aptitude and interest has been clearly evident from day 1. An exceptionally conscientious student, with an exemplary attendance record, he has shown nothing but enthusiasm and energy during his time in sixth form contributing to both his academic studies and a range of extra-curricular activities. He is highly thought of both academically and socially in the college community and is commended by all his teachers for his impressive work ethic and dedication to both the practical and theoretical parts of his sports course. He is described as a confident and reflective learner who adopts a very mature approach to his studies and he brings a calming perspective to class discussions. He has excelled academically achieving Distinction grades throughout. He has also completed a coaching qualification and used it in various work experience placements in local primary schools and Fit For Life Youth where his passion for coaching in football was clearly evident. Anibal's tutor Mr Makiadi comments that Anibal has been a real team player in all aspects, not just in class but helping out across all charity fundraising activities in his year group's Hall where he has been very proactive in coming up with ideas and executing them successfully.
Anibal plays for the College football team and Mr. Banks who runs it states that he never misses training and that he regularly takes part in extra training sessions. He also plays for a team outside college balancing the rigorous commitments of both teams and his college studies. Everyone's vote goes to Anibal, he's been a star student "on and off the pitch". He is progressing to study Sport Coaching and Physical Education at Birmingham City University.
Anibal said on receipt of the award (joining us remotely via TEAMS from Portugal as he had already set off for the summer holidays to his home country!) that he felt excited and privileged to have won the award, stating how much he's loved his time at St. Charles stating he couldn't have wished for a better 2 years! Ms Mc Hugh who has worked with Anibal throughout his time at St Charles commended Anibal for his fantastic journey at St Charles from start to finish, stating she is confident he has a great future ahead!
Not surprisingly, Anibal choose to give his £300.00 to the Sports Department who purchased various pieces of equipment for students to use.
April – Ugur Nacar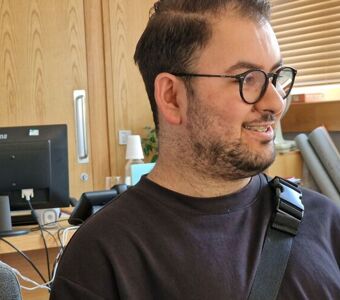 Ugur was nominated for this award by a cross section of staff and peers who describe him as a fantastic candidate for the award because of his commitment and resilience to his courses and college life. Ugur consistently maintained a 100% attendance and punctuality record making him an incredible role model for his peers.
Ugur is now in his third and final year at St. Charles studying L3 Art and extended project following his successful internal progression from Level 2 Art and Design. Ugur tells us that he really enjoys studying art at St Charles and getting lost in new and exciting projects. He describes it like an "escape" as it gives him the freedom and licence to be really creative which is therapeutic! He says his art teachers are really supportive and inspirational and are always pushing him to stretch and challenge himself to produce high quality, innovative work.
The Art and Design teachers, Ms. Abbas and Ms. Hemsley, describe him as an 'asset' to their L3 cohort as he always contributes 'alternative and original' ideas and Ugur never hesitates to get involved in the workshops and trips on offer. He clearly demonstrates a strong passion for art, and illustration in particular; he would like to pursue a career longer term as an illustrator. He comments, "I'm very interested in the creation of cartoons and the illustration industry; I would like to become a well-known illustrator and make people happy and excited the same way I get excited for example when I see a new cartoon." He has really pushed himself this year and is never afraid to ask for support. He is really keen and ambitious to achieve the best outcomes he possibly can!
Ugur is a polite and thoughtful and described as the 'ideal' student due to his attitude and commitment to learning. He is also cited as a real addition to the college community with his friendly and helpful approach. He is also an active member of the college's learning support department and is always keen to get involved in their activities. He contributed to Autism Acceptance Week in College, raising awareness amongst staff and peers. He has also been involved in a mentoring scheme and helped out with many charity events. He has grown in confidence and forged strong friendships; he is extremely polite and affable and a pleasure to have around.
We are all very proud of Ugur's journey and accomplishments to date here at St Charles and we look forward to seeing him progress in his future studies. Ugur is off to London Metropolitan University to study a BA Foundation degree in Graphic Design.
Ugur said it made him feel very, very happy and special to have been given the Jack Petchey Award. He knew about the award in college but NEVER ever thought he could be a winner! Well you are Ugur and well deserved!
Ugur choose to use his £300.00 to fund a bowling trip for 40 students and staff to Queens Ice, Bayswater, London.
May 2022 Winner – Jara Mia Fabros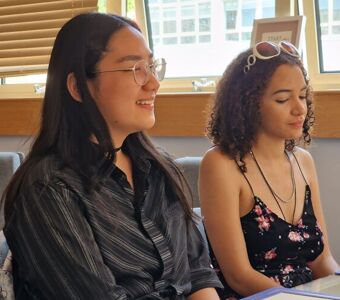 Jara, a first year A level student at St. Charles is described as an exceptional student by all who know her. Studying A level Business, Economics and Maths, she is cited by all her teachers as outstanding. A bright and high achieving student, she is an incredible role model to her peers with her hardworking, diligent approach and her outstanding attendance and punctuality record. Her work ethic is second to none and she adopts a mature and conscientious attitude to her studies at all times. She is always positive and has forged excellent working relationships with staff and peers alike. She is very supportive of peers in class always demonstrating sensitivity and a caring nature to others.
A model student, she also is heavily involved in extra-curricular activities where she is actively involved in the running and participation of a wide range of activities in the college community. She has a positive presence around the site. She has been involved in Charities Week, been part of the college team who participated in the Big Idea Challenge and helped out as Student Ambassador at open events. She is a true team player always showing real kindness towards others. Jara has certainly taken full advantage of the opportunities available to her to both further her studies and herself. An amazing all round student especially given she has only arrived in the UK from the Philippines last year and St. Charles is her first UK educational setting!
Jara said on receipt of the award that she was surprised and had no idea that she'd been nominated even! She felt humbled to have been presented the award by The Principal Mr. Twist and wanted to thank all who support her at college. She said she didn't think she had impressed her teachers that much in such a short period of time here! Well, you clearly have Jara and we anticipate there will be lots more to come!
Jara wanted to split her money evenly between her 3 departments, Economics, Business and Maths. Economics used it for a yearly subscription to the Economist magazine. Business and Maths used their money to purchase Revision books in their respective subject areas.
June 2022 Winner – Gabriel Osei-Tutu Arhin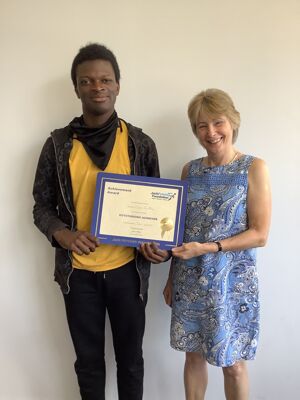 Gabriel was nominated by a wide range of staff and peers for his immense contributions both academically and personally to the college community during his two years in sixth form. A student of A level Biology, Maths and Physics, Gabriel is well on his way to study Aerospace Engineering at Southampton University. Gabriel has been an exceptional student who has excelled academically. His Maths teacher states he has gone from strength to strength in the subject, he is always helping peers in class and he has helped out in the Department mentoring GCSE Maths students in his own time. His Biology teacher echoes this by stating that he maintains an outstanding attendance record and is consistently hardworking and focused in class. In Physics he is equally committed and equally supportive of peers. The teacher states he is highly resourceful and is always taking and using his initiative in class, leading by example.
Gabriel is extremely polite and he has given freely of his time outside his studies to the college community. A gifted pianist, he has played at numerous college events including open mornings, performances, liturgies etc. This is very noteworthy given that Gabriel is self-taught on the piano! He is actively involved in enrichment activities and helped ensure the end of year College Prom went off smoothly in June 2022 as part of the College Council. A brilliant ambassador for the college, Gabriel's studious and ambitious approach coupled with his extremely approachable and affable manner has won him the admiration and respect of his peers. He is a very worthy winner and he is leaving a great legacy behind him, having overcome many personal challenges prior to joining St. Charles.
Gabriel said he felt happy and proud to have been rewarded for the work he'd put into his studies and the college community. Gabriel wants to split his money £300.00 between the Performing Arts Department and the Science Department. Performing Arts purchased a "learning package" for Cambridge Technicals L3 Performing Arts. The remainder of the money will go to the Biology team who are undertaking a trip to Valencia in Spain in the autumn term. The organiser will use the money to subsidise entrance to a Zoo Park for students as a planned part of the trip.