Some Well-Deserving Jack Petchey Winners in Autumn 2022!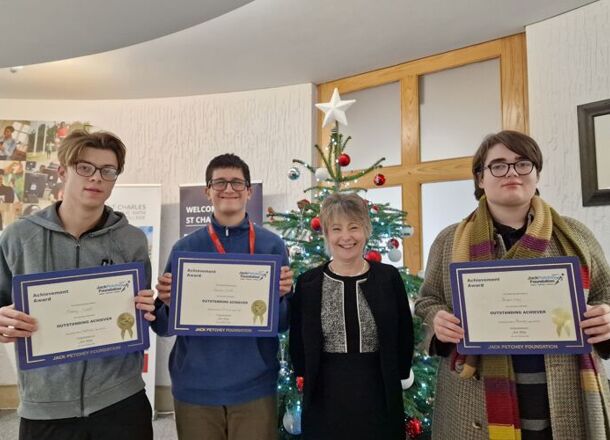 News
3rd Jan 2023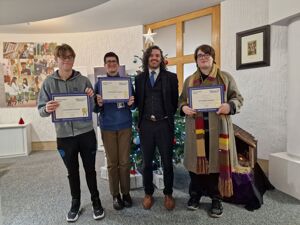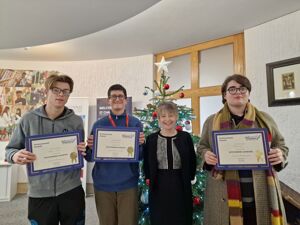 September 2022 Winner - Sonny Jim Lovell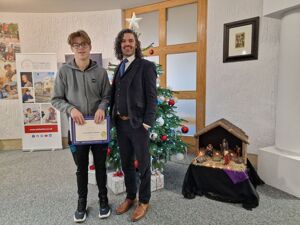 Sonny was nominated for this award by his sports teachers and learning support staff, as well as peers. Sonny is in his third and final year here at St. Charles Sixth Form College studying Level 3 Extended Certificate in Sports, having successfully progressed internally from Level 2. Sonny came to us with modest GCSE results but worked tirelessly and conscientiously to make progress. An ambitious student, he would like to pursue sports science in the future; sport has always been his first and main interest! He would like to become a PE teacher or a fitness instructor in the future.
His sports teachers describe him as extremely hardworking and as someone who is consistently respectful to staff and peers. He always adopts a positive attitude to everything he undertakes and is an inspirational role model to peers. In addition he maintains an outstanding attendance and punctuality record of 100%. He is reported to be always the first student to arrive to class, as being well organised for his classes and training and he always meets deadlines. He is on target for some excellent end of year results!
A mature young man, he has demonstrated that with true grit and determination you can accomplish anything you put your mind to. Sonny has also taken his passion for sport outside the classroom. He represents the College's first team in football which he loves and where he is making a name for himself indeed! Sonny himself states that St. Charles has been the "right fit" for him as he is studying a subject that he is truly interested in and his time in sixth form both in and out of the classroom has helped him grow in confidence and ability. He is proud to be part of the college football team and has made lots of friends as well as keeping old ones during his time at St. Charles.
We are all very proud of your journey too Sonny. What a fantastic attitude you have towards everything and you are destined for a bright future.
Sonny donated £250 to the Sports department to buy new football kit for the College's football team. The remaining £50 was given to the Learning Support Department to buy prizes for an end of term Christmas celebration for SEND students.
On receiving the award Sonny commented "I was very happy to receive this award and thankful for it and want to say a big thank you to the staff who help me with my studies and support me with my football at college. Thanks to all those who nominated me for this award. I feel honoured."
October 2022 Winner - Hossain Ozlat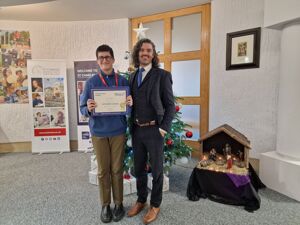 Hossain was nominated for this award by a wide range of cross-college staff. Nominations were received from all his teachers, learning support staff and peers and from the library and college enrichment staff which is a true testament to what a reliable and dependable student he is!
Hossain is in his second year here at St. Charles studying Level 2 ICT having successfully progressed internally from Level I. ICT is clearly his passion and an area he sees himself pursuing as a career in the future. Having made an excellent transition to sixth form from his secondary school last year, Hossain quickly become a popular and well respected member of the college community. All staff whose he has been involved with him to date describe him as hardworking, extremely conscientious and organised. They state he is always super positive and enthusiastic about everything he is involved in.
He takes his studies very seriously, always striving to achieve the best possible grades in his subjects. As part of his course he completed a really successful work experience at St. Augustine's Secondary School working in the IT department. His supervisor there stated he was the hardest working student she has ever seen on work experience! His work ethic is certainly unquestionable in everything he undertakes and this is also extended to his involvement in a variety of extra-curricular activities.
Hossain has taken full advantage of the college's enrichment programme participating in our Cyber Security, Chess, Rainbow and Art clubs etc. He is also heavily involved in organising the college's Autism Awareness Campaigns. On top of all of this he also finds time to be a volunteer in the college's Learning Resource Centre helping out Ms. Active and her team where he is cited as being thoroughly reliable and committed, and a well- deserved nominee for a Jack Petchey Award.
We totally agree Hossain! You have fully embraced college life and all the curricular and extra-curricular opportunities it brings. We look forward to seeing you grow in confidence and ability and value your infectious enthusiasm and positivity.
Hossain has chosen to share his £300 between a range of departments that he is involved with. He gave £50 to the Careers Department who bought a book "Careers 2023". £50 was given to the College library (where he volunteers in his spare time at college) to buy equipment. The remaining £200 was divided between the Learning Support and Cyber Security Enrichment Club who are booking an E-Safety workshop for the Cyber Security Enrichment Club and SEND students in February 2022.
On receiving the award Hossain commented "I felt very happy when I won the award. It's been my best achievement this term I feel and it's amazing! I have had a great time at college this term and I wanted to thank all who nominated me and believed in me."
November 2022 Winner - Aidan Hay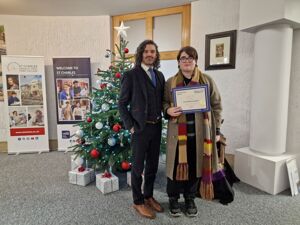 Aidan was nominated for the award by a cross-college section of staff for his excellent approach to his studies and his extensive contributions to the college community.
Aidan is in his first year here at St. Charles studying Level 3 Performing Arts. Ms Nash, who teaches him on this course states he is an incredibly hardworking and dedicated student who is a pleasure to teach with 100% attendance and punctuality. He puts 100% energy into his studies and his participation in a myriad of college activities and events. He is well known in the Performing Arts Department not only for his great team work and excellent work ethic but also for his excellent baking skills (move over Mary Berry!). He regularly turns up with endless supplies of brownies for peers, easing their stress before an exam or performance! He has also used his baking skills to organise various fundraising bake sales for the College's charity week. Ms Leech and Mr Holland, who co-ordinated the week, sing his praises for his persistence and enthusiasm! In addition Aidan is also involved with fundraising activities for the Performing Arts Department's Simply Dance show and the College's annual Christmas Cabaret production. An outstanding team player, Aidan is well respected by staff and peers that he works alongside. On top of all of this he also volunteers as a Student Ambassador for the college, willingly giving up a substantial amount of his free time to represent the college at open mornings etc. Ms Almadian, the college's marketing manager comments that Aidan is an amazing student who has demonstrated excellent leadership skills and is someone with a real can do attitude who represents the college boldly and honestly as an ambassador.
A very worthy winner, we are confident Aidan will continue to excel in his studies and extend his involvement in the college and wider community during his time in sixth form. We look forward to keeping a close eye Aidan and wish you every success.
Aidan chose to donate his £300 to the College's Performing Arts Department. He spent £100 on a costume for an upcoming performance in the department and the remaining £200 was used to take a group of peers and teacher/helpers for a celebratory meal post their Winterland Christmas Cabaret December 2022.
On receiving the award Aidan commented "I felt surprised when awarded by the Principal as I was under the impression I had been invited to participate in a focus group with peers and not to be given an award! I was very pleased and honoured to have been selected out of over 900 students in the college and to win the award which I had heard about previously but I had forgotten what the award actually involved so I was really excited to find out about how the funds can benefit the college! I instantly had ideas for it to be used, especially to support our performing arts department!"