It's the most wonderful time of the year. (December 2022)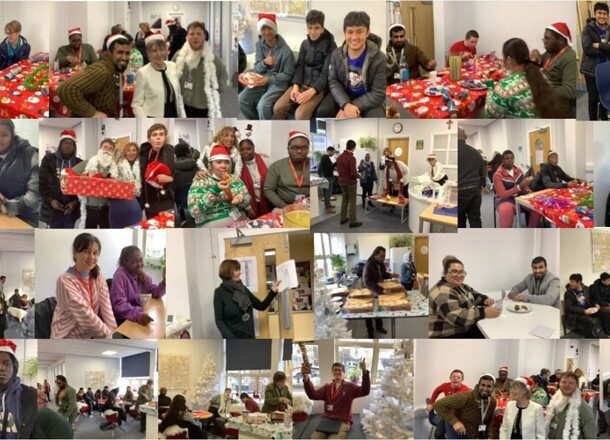 News
4th Jan 2023
Wednesday the 16th December saw a flurry of festive activity in the Learning Support Department at St. Charles Sixth Form College! To celebrate the end of a long but very productive and rewarding autumn term, students and staff came together to enjoy a celebratory lunch in their very own "Winter Wonderland" decorated by the students under the key eye of Sky Montinque and Catherine Coyne!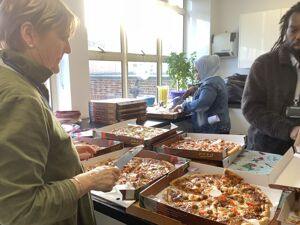 There was sheer delight and excitement when Santa turned up (well, Liz Lancaster!) and her loyal elves Chris (Gyaki) and Aundrieux (Sankofa) with a sleigh loaded with Christmas themed/topped pizzas! They were all ably assisted by Fatime (Gurero) who helped with the fair distribution! It was a pleasure to see over 40 students who are regular users of the Department mingle joyfully and jovially with each other, and staff. Everyone was in good spirits and after lunch, the infamous raffle took place under the equally keen eye of Denice (Wilson Gayle) and Gul (Sedef), and it all went like clockwork thanks to the meticulous co-ordination of numbers by Mary (Cotter)! Students were delighted with their prizes which included a variety of popular vouchers with one student commenting "This has made my Christmas!"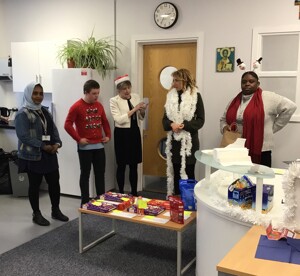 In addition to the raffle prizes there were other special prizes awarded to the Department's "Student of the Term" accolade . As it was Christmas, 2 students were awarded-Joguina (Mokekola, returner student September 2022) and Navinu (Thanakotuwe Gedara, new start September 2022). While all students had made significant progress this term, these 2 stood out for the distance they had travelled since the start of the year on their courses but also because of their enthusiastic contribution to the wider college community through their active participation in a variety of activities e.g. The Christmas Cabaret, Charities Week, etc.
The LS team would like to thank Hossain Ozlat and Sonny Lovell who were both present at the gathering for helping subsidise the event from their recent and very coveted Jack Petchey award. presented to them by the College Principal, Mr. Twist (see article on website) in December
.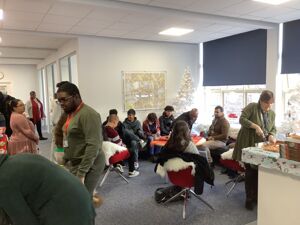 Everyone left at the end of term feeling happy and upbeat which was captured effectively throughout by our resident photographers Olu (Elebiju), (who also insisted on providing the music!) and photo booth maestro Jack (Williams). There was a sense of great pride at what the students had achieved in this first term in the room. Student Omar (Mihoubi) thanked everyone as he left (stating he was thrilled to have won the final prize!), as did all the students. Charles (Webb Carey) said he had a fantastic time and Jeremiah (M), Abdulrahman (Kalam) both stated it was all worth doing and we must do it again soon! Alex (Elebiola) stated it was better than he expected and Rakim (Shakur) and Yussif (Alanezi) gave the pizza a big thumbs up! Chona (Brown) said it was a lovely way to end the term and Joguina (Mokekola) and Emilio (Shtembari) were thrilled with their prizes and Navinu (Thanakotuwe Gedara) said his prize was "the best". Hussain (Ozlat) stated he'd miss us over the Christmas and Taniyra (Brown) and India (Dove) left saying "great end to the term".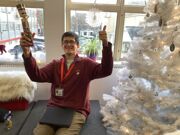 Thank you everyone and here's looking forward to 2023!